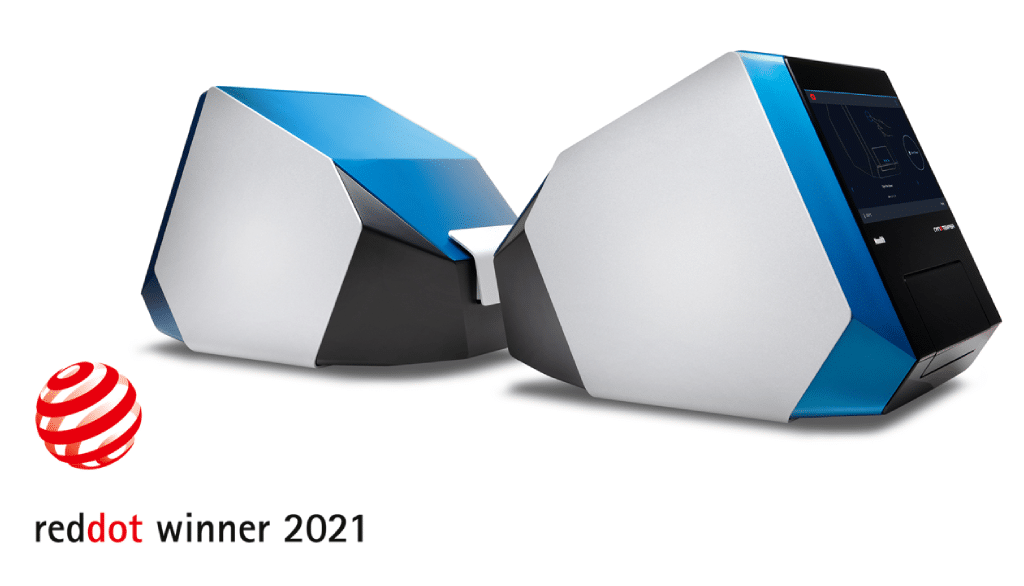 NanoTemper's newest Monolith instrument has been awarded the Red Dot Award, an internationally recognized seal of excellence in design. Both bold aesthetics and user-friendly design have always been a core focus in NanoTemper's product development. NanoTemper's design approach centers around a researcher's need to solve big research challenges with tools that are intuitive and easy-to-use.
The Red Dot Award has been awarded by the North Rhine-Westphalia Design Centre in Essen, Germany every year since 1955 to recognize the year's best products. Now one of the world's largest design awards, the Red Dot Design Award gets over 18,000 entries from over 70 countries. In 2012, Monolith's predecessor Monolith NT.115 was also given the same award.
Monolith was recognized because "the device stands out against other laboratory equipment due to its combination of sleek contours and contrasting colours." The acknowledgement continues, "Monolith impresses with a powerful combination of surfaces and shapes that exudes self-confidence and blends well with its highly developed functionality." Read more here about why Monolith was selected for the Red Dot Award.
Earlier this year, the Monolith was also recognized for design by the IF Design Award.
About Monolith
In September 2020 NanoTemper debuted the newly redesigned Monolith, offering higher-quality molecular interaction measurements for very challenging targets. Its new design guarantees a more user-friendly workflow, quicker assay development, and higher quality MicroScale Thermophoresis (MST) measurements for molecular interactions. These updates make Monolith especially suited for examining challenging targets such as membrane proteins, intrinsically disordered proteins (IDPs), proteolysis-targeting chimeras (PROTACs) or RNAs.
Learn more about Monolith here.
The post NanoTemper's Monolith wins top global design award: Red Dot Award appeared first on NanoTemper Technologies.